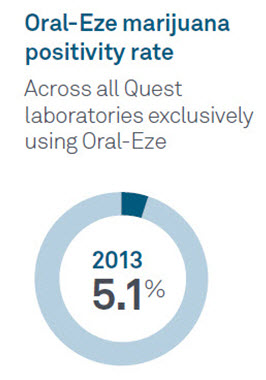 As state marijuana laws continue to change, it's not surprising that marijuana use and drug test positivity are also on the rise. An estimated 24 million adults (aged 12 or older) currently use marijuana, according to latest data from the National Survey on Drug Use and Health.
Marijuana positivity using oral fluid drug testing
New technology in oral fluid testing has proven effective in detecting recent drug use, especially for marijuana. In the last 3 years, data from the Quest Diagnostics Drug Testing Index™ revealed that marijuana positivity has increased nearly 75% in oral fluid drug tests in the general U.S. workforce. Additionally, a study published in the Journal of Analytical Toxicology showed that oral fluid testing using Oral-Eze® provided remarkable drug recovery and stability of delta-9-tetrahydrocannabinol (THC). THC is the predominant analyte detected in oral fluid testing when an individual uses marijuana.
Our Marijuana detection using oral fluid drug testing white paper discusses this popular topic and examines:
Shifting views about cannabis in our country
Trends in marijuana detection in the U.S. workforce
Positivity rates in states with recreational marijuana use laws
Marijuana positivity by drug test type
Benefits of screening with the Oral-Eze collection system
Benefits of oral fluid drug testing
A significant advantage of oral fluid drug testing is an observed collection, which discourages cheating and tampering by a donor. Although oral fluid testing has a slightly shorter window of detection than urine, it demonstrates higher positivity rates for almost all drugs and more than twice the positivity rates for marijuana. That said, oral fluid can be used for a broad range of testing scenarios, especially pre-employment drug tests.
Download our white paper.
For more information about drug testing, visit Oral-Eze.com or contact us online.