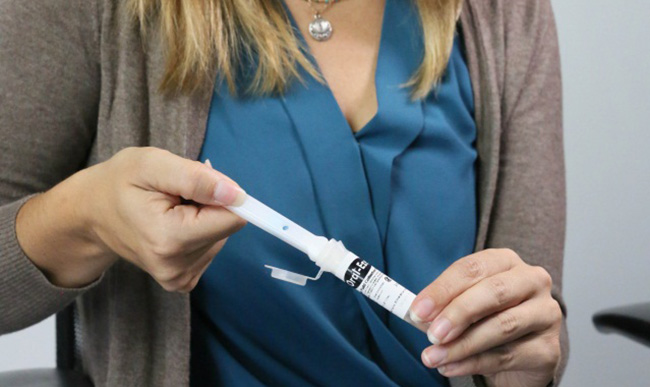 Marijuana consistently ranks as the most commonly detected illicit drug. The primary psychoactive chemical of cannabis, delta-9-tetrahydrocannabinol (THC), is also the predominant analyte detected in oral fluid drug testing when donors use marijuana.
Oral fluid drug testing is emerging as a popular alternative to urine testing and is often used in workplace substance abuse, clinical, drug treatment and criminal justice settings. Oral fluid testing requires a small sample that is collected under direct supervision. Because collections are observed, oral fluid testing is considered a tamper-resistant screening method.
In an article published in the October 2015 Society of Forensic Toxicologists (SOFT) Special Issue of the Journal of Analytical Toxicology, scientists from Quest Diagnostics Employer Solutions and Thermo Fisher Scientific evaluated the stability of THC using the Oral-Eze Oral Fluid Collection System and the Intercept® oral fluid device. Drug stability after collection is important because it impacts the interpretation of results and the reproducibility of testing. To date, there is limited published data regarding the stability of THC in oral fluid drug testing.
"Drug stability in a specimen can vary depending upon the collection device and the buffer preservative solution which raises accuracy and precision issues with respect to oral fluid testing. Furthermore, some oral fluid drug testing devices do not standardize the specimen volume obtained which may impact drug test results," noted Dr. Kimberly Samano, Postdoctoral Fellow, Quest Diagnostics.
The study was conducted with THC-spiked oral fluid drug test specimens in addition to authentic oral fluid test specimens. Studies were designed to investigate performance of Oral-Eze on the detection of THC in test specimens after routine drug test collection, transport and laboratory testing.
The research emphasized that the accurate and precise analysis of drugs of abuse in oral fluid depends not only on the collection device, transport tube and accompanying buffer system, but on initial and confirmatory testing methods. Collectively, the data demonstrates that Oral-Eze provides consistent and reproducible recovery and remarkable THC stability from the point of collection through laboratory testing, storage and final disposition.
This paper, Recovery and Stability of Δ9-Tetrahydrocannabinol Using the Oral-Eze® Oral Fluid Collection System and Intercept® Oral Specimen Collection Device, and its insights will be presented at the Society of Forensic Toxicologists annual meeting in Atlanta.
Download the paper from the Journal of Analytical Toxicology. 
Download our white paper featuring this peer-reviewed research.
For more information about drug testing, visit our website or contact us online.
Study authors include Dr. Kimberly L. Samano, Postdoctoral Fellow, Quest Diagnostics; Lakshmi Anne, Thermo Fisher Scientific; Ted Johnson, Director of Operations, West Hills, CA, Quest Diagnostics; Kenneth Tang, Thermo Fisher Scientific; and Dr. Barry Sample, Director of Science and Technology, Quest Diagnostics.
Thermo Fisher Scientific is the manufacturer of both the Oral-Eze Oral Fluid Collection System and the testing reagents used by the laboratory.