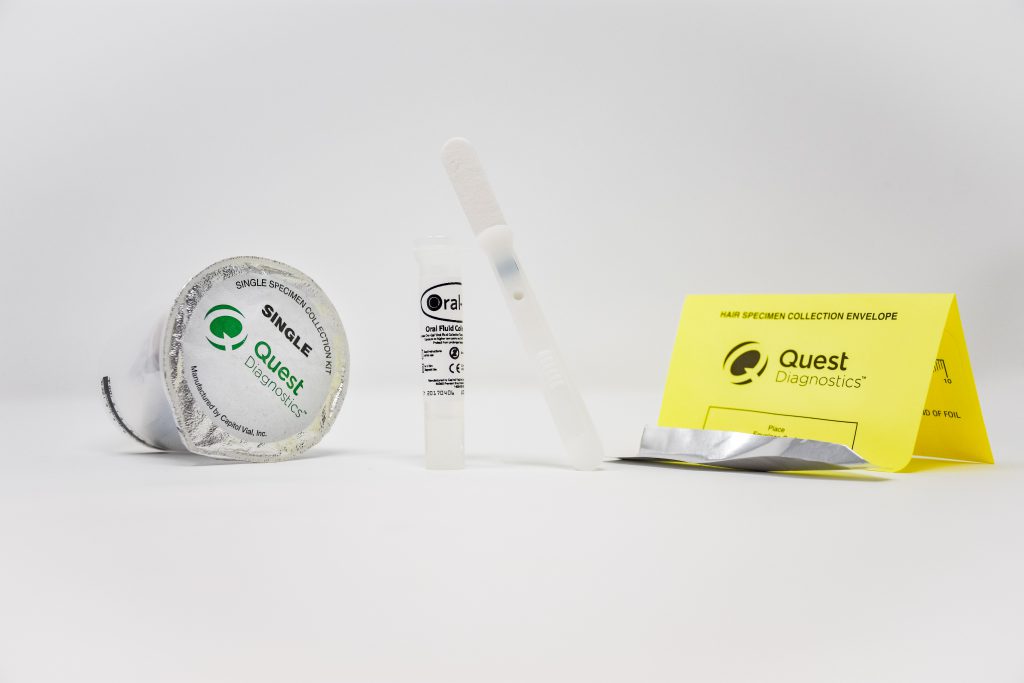 Quest Diagnostics believes in the value of drug testing. Effective drug testing solutions can help to improve productivity, reduce workplace accidents, decrease absenteeism, and job turnover. Because every workforce is unique, an employer should make a careful determination about the program elements that are most valuable for their employees.
From a robust collection site network with nearly 10,000 locations across the US to an intuitive drug testing results portal, our suite of services is vast and helps to make the drug testing process easier from order to results.
Drug testing solutions for every size business.
Whether your company employs 2,000 people or a tight crew of 50, our drug test products and solutions can cover the full range thanks to our laboratory footprint, our scientific expertise, and a name brand synonymous with quality and reliability.
Employers can choose the best drug test type to build an effective program.
Urine drug testing – Urine is the most common and trusted test method. It detects recent drug use, typically in the previous 1 to 3 days, and can be performed for a wide range of illicit and prescription drugs.
Oral fluid testing – The Oral-Eze® oral fluid collection system is one of the most utilized collection/testing system for workforce oral fluid testing and is second to urine testing in workforce testing volume. This screening method and detects recent drug use in the previous 24-36 hours. Data also shows that Oral-Eze is very effective in detecting marijuana use.
Hair testing – Hair drug testing continues to gain broader appeal as it yields a longer detection window, providing a drug-use history that shows up to a 90-day pattern of repetitive use.
Instant urine drug testing – Instant urine drug testing can provide a result on-site, allowing the option to have drug test collections take place outside of a collection site so employees are able to go back to work the same day.
Alcohol testing – Our implementation of electronic breath alcohol testing (eBAT) helps make the process more seamless and effective.
Visit our website for a full list of products and services we offer.
There are reasons beyond pre-employment that employers choose to drug test employees. Some workforce scenarios include:
Random – Using a random selection process, the employer selects one or more individuals from all the employees included in the employer's workplace drug testing program. Random testing is a strong deterrent to drug users because it is conducted on an unannounced basis.
Reasonable suspicion – Sometimes referred to as "probable-cause" or "for-cause" testing, this testing type is usually unscheduled or short notice and is conducted when a supervisor has evidence or objective reasons to suspect drug use by an employee. Since this type of drug testing is discretionary, it requires supervisor training to ensure consistent application of the program across the workforce.
Post-accident – Testing following an accident—sometimes referred to as "post incident" testing—can help determine whether drugs were a factor. Post-accident testing should be done within 12 hours of the incident since different drugs may have different windows of detection.
A broad range of testing and collection options backed by a service-oriented culture; discover our complete line of drug testing solutions.
Our technology, collections, and logistics network helps define quality and reliability.
Collection network – Although the majority of all drug test collections take place in our collection site network, employers can count on the versatility of our mobile services to help maximize their drug testing program with 24/7 on-site collections.
Drug testing portal – Our Employer Solutions Portal (ESP) is a comprehensive, easy-to-use solution that connects your drug testing program directly to Quest Diagnostics.
Electronic custody and control forms – An electronic Custody and Control Form (eCCF) is the digital version of the 5-part paper custody and control form, designed to improve the process and make collections faster and more efficient. eCCF is available for all US Department of Transportation (DOT) urine, non-DOT urine, Express Results™ Online, oral fluid, and hair drug tests.
Drug testing savings calculator – Employers can determine the return on investment (ROI) of their workforce drug testing program using the latest data.
Web services, electronic integrations, and Applicant Tracking System (ATS ) – Drug test results are electronically downloaded 24 hours a day, 7 days a week, through a secure interface with your company.
Summary
Drug testing can be complicated, but it doesn't have to be. Even if you are new to workforce drug testing and just starting to manage a program, our knowledge center can help bridge the gap between learning the fundamentals and executing an effective program. For those who have experience with drug testing, we continue to offer insights through our newsletter, blog, and resources page to share the latest news and alert you to new information that may benefit your program and workplace alike.
To learn more about our suite of services, connect with us today.