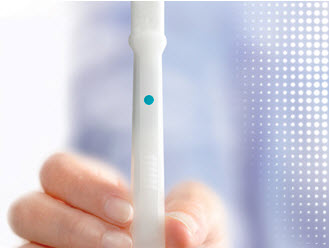 Quest Diagnostics introduced Oral-Eze, a new and improved laboratory-based, oral fluid drug testing collection system to the market last fall. We developed a product that offered no salty or citric taste, a volume adequacy indicator that turns blue when a sufficient quantity of oral fluid has been collected, and a collection vial that is simpler to operate.
Why choose Oral-Eze for oral fluid drug testing
Our clients recognize the advantages of Oral-Eze devices and they now represent more than 85% of the oral fluid testing volume in our laboratory. We recently notified customers that we will exclusively test Oral-Eze devices beginning December 1, 2012. Other lab-based oral fluid devices sent to our lab after this date will result in cancelled tests.
We encourage you to make the transition today, and to start enjoying the benefits and improved donor experience of Oral-Eze.
Read our Oral-Eze FAQs.
For more information, visit our website or contact us online.