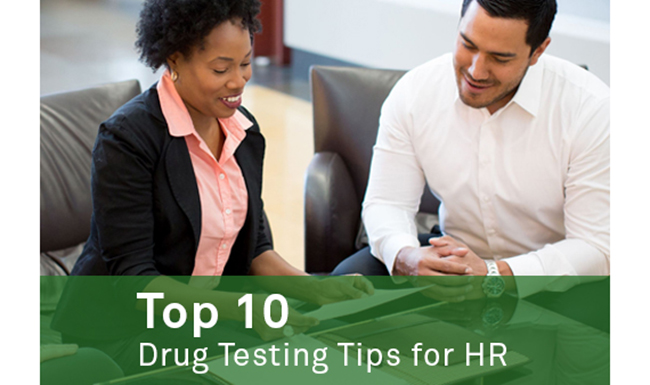 Human Resources professionals serve as trusted advisors offering insights and guidance on a variety of topics such as staffing, benefits, compensation, and employee engagement. Ultimately, the role centers on making a positive impact for the workforce and retaining high-performing employees who drive results. As the labor market tightens, the importance of effective recruitment strategies has to continue to increase in order to attract the highest caliber job candidates.
A drug screening program is a critical component to aid HR in hiring the best, most talented, drug-free individual for the job. It also supports efforts to maintain a safe, healthy, and productive environment for all employees. Without a testing program, employers can face challenges such as increased absenteeism, turnover, and on-the-job accidents, as well as declines in performance and productivity.
According to the National Survey on Drug Use and Health, approximately 67% of all drug users are employed. With that in mind, here are 10 tips to boost your workplace drug testing IQ.
Know the risks. Drug use among American workers is on an upward trend. Analysis from the recent Quest Diagnostics Drug Testing Index™ showed that drug positivity in the U.S. workforce hit a 12-year high fueled by cocaine, marijuana, and methamphetamine.
Understand when and who to drug test. Different reasons for testing impact frequency and who is tested. For example, pre-employment drug testing is completed by a candidate after a conditional offer of employment has been made and requires a negative result. On the other hand, random drug testing is conducted on an unannounced basis using a random selection process of current employees.
Match the test to your needs. Urine, oral fluid, hair, and instant tests are the most common workplace drug testing methods available and each has unique advantages. If you are unsure which test type best fits your workforce, our Drug Testing Needs Assessment can help.
Screen for commonly-detected drugs. Select what drugs to monitor by taking into consideration regional patterns of drug use, job type, employee demographics, and drug testing benefits / limitations. Many companies, regardless of industry, elect to follow the guidelines established by the federal drug testing program.
Determine the window of drug detection. Decide if your company is screening for very recent drug use or longer term patterns of repetitive use. Various drug test types can be used in combination with each other for more comprehensive screening.
Choose who collects the drug test specimen. Employers can opt to conduct certain types of drug test collections themselves at their place of employment. Other employers prefer that a trained, professional test administrator complete the collection at a nearby site equipped with the necessary testing supplies and forms.
Revisit your policy. Review your policy to ensure it is current, complies with all relevant state and Federal laws, and considers all parameters and procedures involved with drug testing. Consider new challenges such as state marijuana legislation and our country's opioid epidemic in your program's language. Always consult an attorney if you need additional clarity.
Train your leaders. Once the policy is implemented, provide training to supervisors about the warning signs of substance abuse, documentation of performance-related problems, employee assistance programs (EAP), health-insurance coverage for treatment, and how to refer an employee for help.
Be transparent. Policies must be applied consistently across an organization without exception. Communicate to job candidates that a pre-employment drug testing is a mandatory requirement and only hire an applicant who passes the drug test.
Stay informed. Organizations such as the Society for Human Resource Management (SHRM), Drug and Alcohol Testing Industry Association (DATIA), Substance Abuse Program Administrators Association (SAPAA), and National Drug & Alcohol Screening Association (NDASA) offer training and resources about drug and alcohol testing and trends. You can also follow trusted media and social media communities keep current on news and information.
Download our drug testing guide to get started.
For more information about drug testing, visit our website.
Updated June 18, 2019