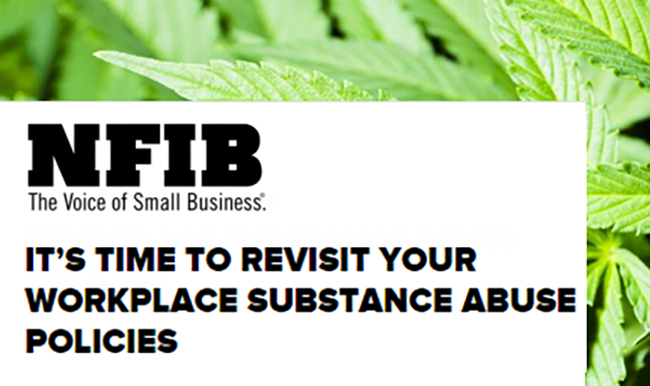 Business owners should make sure their office drug policies are up to date. Here's why.
Employers are aware of the impact of employee substance abuse: higher absenteeism, lower productivity and performance, and increased safety and injury risks in the workplace.
In addition to combating these issues, a qualifying workplace drug testing policy may also entitle an employer to workers' compensation insurance premium discounts.
While there has been a decades-long decline in workplace positivity rates in drug testing, it has recently reversed. This was one of the main findings of an analysis of testing data performed by Quest Diagnostics, which was released earlier this year. This analysis was based on the results of more than 10 million workplace drug tests. For example, heroin use, once thought to be curtailed, is again on the rise. Additionally, new synthetic drugs that have emerged in the last few years can present a real threat in the workplace just as much as the more common illicit drugs. Testing policies that once captured the most commonly abused substances may therefore now fail to address current trends.
Shifting Marijuana Laws
Employers are also facing the confusing subject of medical marijuana. Although marijuana remains a Schedule I drug, and is illegal under federal law, many states have enacted medical marijuana legislation allowing licensed users to use marijuana for medical treatment.
Data from Quest Diagnostics confirms that marijuana continues to be the most commonly detected substance in workplace drug testing, with positivity rates in the general U.S. workforce increasing 14.3 percent between 2013 and 2014.
Adding to employers' dilemma, a number of states have passed or are considering "recreational use" statutes, which would permit, under state law, an individual to legally use marijuana. An employer's rights and obligations with regard to positive marijuana results in states with medical marijuana or recreational use laws is hotly debated and fraught with legal risk if an employer does not adequately understand the applicable law and have a clearly defined testing policy.
While many businesses have workplace drug testing programs, many of their policies were developed years or even decades ago.  Recently, some of the principles upon which employers historically based their testing programs have been called into doubt by state legislation and, and to some extent, by state appellate courts.
All workplace drug-testing programs should be a part of a clearly written, and current, policy that complies with relevant federal and state law. Unfortunately for employers, those requirements are no longer clear, and in some cases, now actually conflict. In light of these trends, employers would be well-served by a review of their workplace drug-testing policies. Employers should also consult an attorney about the impact of recent state legislation on their workplace drug-testing program.
This article was published by the National Federation of Independent Business (NFIB) on October 8, 2015. NFIB represents small and independent businesses with a mission to promote and protect the right of its members to own, operate and grow their businesses.
For more information about drug testing, visit our website.