The 2010 Federal Drug Testing Custody and Control Form (CCF) was approved for use beginning October 1, 2010 and was designed to replace the Federal CCF from 2000.
In order to avoid the waste associated with discarding the older version of the CCF, Federally-regulated employers could use either the 2000 or 2010 version of the Federal CCFs for their workplace drug testing programs between October 1, 2010 and September 30, 2011. As of October 1, 2011, the 2010 Federal CCF will be the only Federal CCF permitted for regulated specimens. After September 30, 2011 if a Quest Diagnostics laboratory receives a regulated specimen accompanied by the 2000 Federal CCF, we must treat it as a correctable discrepancy and request a memorandum for record (MFR) which will delay the reporting of your drug testing results.
Quest Diagnostics has been supplying the 2010 version of the Federal CCF to our DOT customers since mid-October 2010. In order to avoid reporting delays after September 30, 2011, employers that still have the 2000 version of the Federal CCF should order new, replacement forms and immediately discard the 2000 version of the Federal CCF. Quest Diagnostics customers can order these new forms by contacting our National Customer Support Center at 800-877-7484.
You can easily differentiate between the old form, which should be replaced, and the new form by the revision date located on the upper left side of the form (see circled portion on the image below.) If the revision date on your Federal forms is older than 10/10, the form needs to be replaced.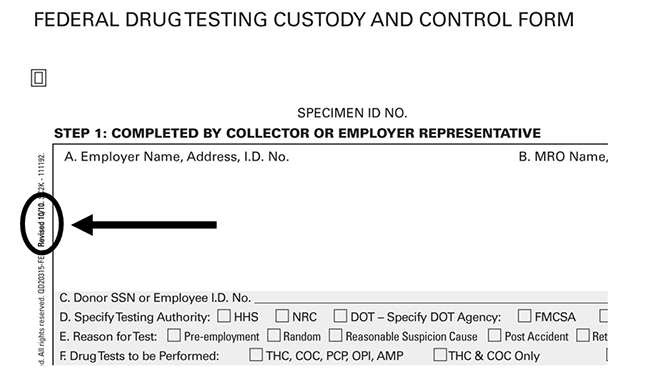 A sample of the 2010 Federal CCF may be found on the SAMHSA website.
Please note that this form only impacts your DOT specimens.
For more information about drug testing, visit our website.