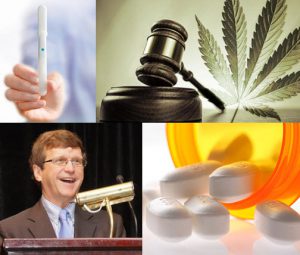 Quest Diagnostics proudly celebrates the 30th anniversary of the Drug Testing Index™ (DTI). Published annually, the DTI reveals insights into patterns of drug use among the American workforce. During the past 30 years, we have seen both the public and private sectors use substance abuse testing programs to deter drug use in the workplace. Our timeline tracks both the progress of the testing industry and illustrates our company's steadfast commitment to helping to keep workplaces drug-free. Today, we take a deeper look at overall positivity rates and key milestones from 2008 to 2013.
The DTI continued to report drug use trends by drug type and region. The overall positivity rate in urine workplace drug tests held at 3.6% in 2008 and later fell to 3.5% by the first half of 2012. In June 2011, the Global Commission on Drug Policy reported that the war on drugs, declared by President Richard Nixon in 1971, had failed globally after $1 trillion spent.
More American workers and job applicants tested positive for prescription opiates, according to 2009 DTI data which showed an 18% jump in opiate positives in the general U.S. workforce between 2008 to 2009 and a 40+% climb in positivity from 2005 to 2009. National and local law enforcement officials continued to work to combat suppliers and abuse. Also, in 2009, federal authorities in Texas reported taking down a Mexican Mafia gang that had been trafficking methamphetamine since 2004.
In 2011, Quest Diagnostics introduced the Drug Testing ROI Calculator, a revolutionary tool that combined industry and drug test positivity rates with customizable, company-specific information to create a robust drug testing program report. That same year, Quest Diagnostics introduced Oral-Eze®, the industry's first, fully FDA-listed second generation oral fluid collection and testing system. Oral-Eze features indicator window technology to help ensure that an adequate sample of oral fluid has been collected. The Substance Abuse and Mental Health Services Administration (SAMHSA) accepted Drug Testing Advisory Board recommendations for oral fluid and prescription Schedule II drugs in January 2012. With sound science and technology in place, it would seem that it's only a matter of time until oral fluid is permitted for federally-mandated drug testing.
In July 2008, drug testing was accepted by the Professional Golfer Association (PGA), even though Commissioner Tim Finchem opposed it for years because he believed that golfers monitored themselves. On October 22, 2012, cyclist Lance Armstrong was stripped of his seven Tour De France titles and banned from Olympic sports for life by the United States Anti-Doping Agency.
Public opinion towards marijuana continues to shift throughout America. On election day in 2012, Colorado and Washington became the first U.S. states to legalize the possession and sale of marijuana for recreational use, going against Federal Law. Legislation and dialogue on marijuana lingered through 2013 and varied by state. In August 2013, the Obama administration broke their silence and decided not to challenge the state marijuana laws as long as those states maintained strict rules involving the sale and distribution of the drug in the Cole Memorandum.
The most recent DTI data reported an overall positivity rate of 3.5% for urine workplace drug testing with marijuana still holding the top spot as the most commonly detected drug. Oral fluid positivity for the general workforce was at reported at 4.2% in 2008, rising to 5% in the first half of 2012. The data also showed greater detection of marijuana using oral fluid with positivity at 3.9% for just 6 months of 2012 and up from 2.7% in the previous year. In addition, general workforce positivity for hair testing in 2008 was 7.8% and moved to 5.6% in the first six months of 2012.
Over the past quarter century, regulations, federal and state guidance, law enforcement, public perceptions, testing policies and methodologies have transformed drug use and drug testing. We believe insights from the Drug Testing Index have helped to shape drug testing policies and regulations, making workplaces more productive and our communities safer.
For more information, visit QuestDiagnostics.com/DTI.