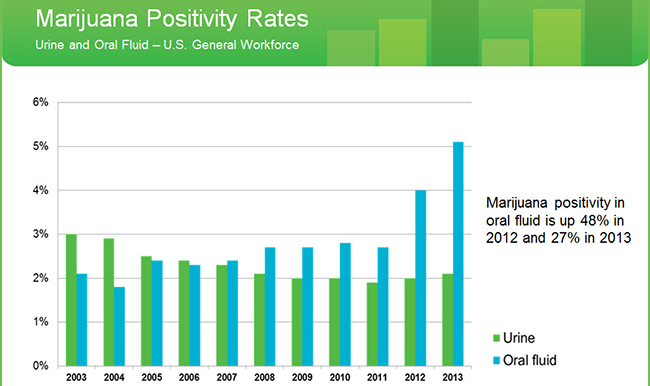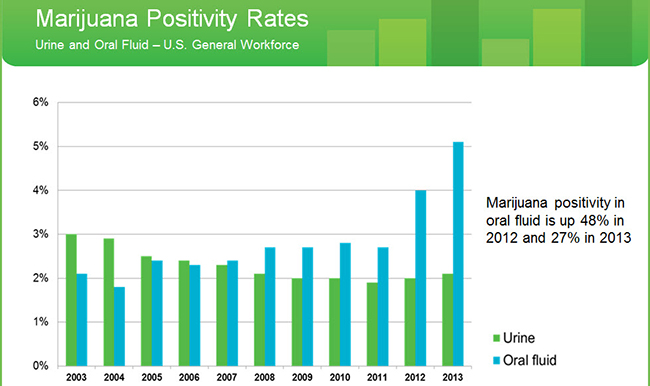 Compared to other drug test specimen types like urine, and especially hair, oral fluid generally detects drugs sooner after use. It takes time for drugs, like marijuana, to metabolize and pass through the donor's system, but an oral fluid test will often detect the presence of drugs almost immediately after use. As such, oral fluid is ideal for a number of testing situations including pre-employment, random and post-accident testing where the indication of recent use can be an important consideration.
The latest data from the Quest Diagnostics Drug Testing Index™ (DTI) reports that the detection of marijuana in oral fluid has increased for the second consecutive year. Oral fluid positivity rates for marijuana climbed 27% (5.1% vs. 4.0%) in 2013 compared to 2012 after a dramatic increase of 48% (4.0% vs. 2.7%) in 2012 compared to 2011. While the trend of higher positivity rates may be partially attributed to an uptick in marijuana use among testing subjects, other variables including observed collections associated with oral fluid testing and the introduction of Quest Diagnostics new oral fluid testing technology in 2011 are also contributing factors to the increase in oral fluid marijuana positivity rates.
To learn more about the recent trends in prescription drug use, read the full release at QuestDiagnostics.com/DTI.
Download the Comparative Analysis of Device Performance in Oral Fluid Marijuana Screening white paper from Quest Diagnostics.
To learn more about drug testing, visit our website.