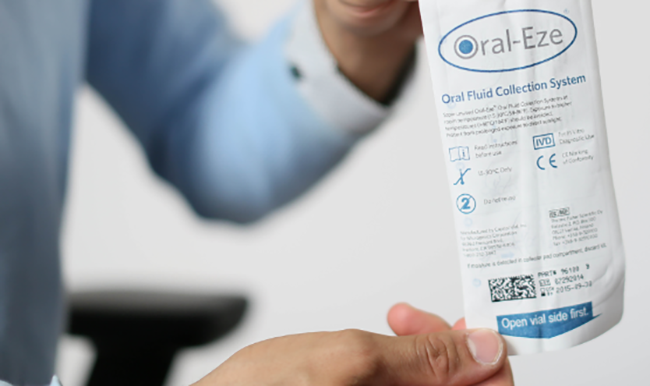 Quest Diagnostics recently revealed new and improved packaging for Oral-Eze®, our oral fluid collection system for drug testing. While the device itself has not changed, the new packaging features more elaborate illustrations on the instructions, the addition of a bar code for use by the manufacturer and a CE mark for our international customers. In addition, the brand is prominently displayed on the front of the package, reflecting the reliability and trust that clients have come to associate with Oral-Eze.
Enhancing the packaging demonstrates our commitment to drug screening innovation and our desire to continue to simplify drug test collections. We solicited input from our clients and collectors to help to enhance the donor experience and ease of use of the device, sometimes called an oral swab test.
Oral-Eze is a patented oral fluid collection system with built-in indicator window that turns blue to show that there is an adequate sample collected for testing. An Oral-Eze collection typically takes five minutes or less and testing is performed the day the sample arrives at our laboratory. Many employers choose Oral-Eze because it offers a fast, observed drug test collection that can be completed at their place of employment. Data from the Quest Diagnostics Drug Testing Index™ shows that oral fluid testing using Oral-Eze provides excellent detection of recent drug use.
To learn more about drug testing, visit our website or contact us online.