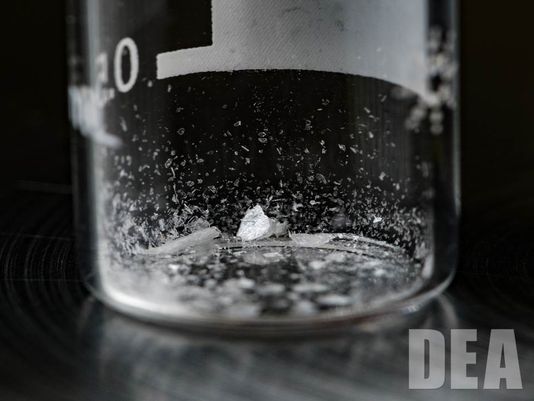 This June, a sergeant with the Houston Police Department retrieved a flyer from her windshield before entering her car. Almost instantly, she felt light-headed and was rushed to a local hospital for presumed accidental exposure to fentanyl. During the past two years, fentanyl gained notoriety as the drug that killed pop icon Prince and now shows up in cases throughout the United States. Accidental exposure to this strong substance is now a real danger for first responders, healthcare workers, crime investigators, and hazardous materials response teams, as well as, the general public. Simply put, fentanyl is helping to fuel the opioid epidemic with devastating consequences and shows no signs of slowing down.
Fentanyl is a highly addictive synthetic opioid 50 to 100 times more potent than morphine and 50 times more potent than many forms of heroin. There are two forms of fentanyl:
Pharmaceutical fentanyl
The most powerful opioid in medicine and a Schedule II narcotic under the Controlled Substances Act, for its high potential for abuse that can result in severe psychological or physical dependence. It is prescribed by physicians to treat severe and chronic pain and to offer palliative, end-of-life care.
Illicitly manufactured, or street fentanyl
Made in clandestine labs, the potency and chemical compositions of street fentanyl vary to dodge detection in drug testing. The Drug Enforcement Administration (DEA) scheduled the whole class of fentanyl-related substances as Schedule I in February 2018 to reduce its flow into the U.S. from China and Mexico and take a stronger stance against drug traffickers.
According to the Centers for Disease Control and Prevention, illicitly manufactured fentanyl is often mixed with cocaine, heroin, and methamphetamine without the user's knowledge and ranks as the top substance involved in fatal overdoses. An American Medical Association research letter said that "heroin and synthetic opioids (primarily illicit fentanyl) are increasingly implicated in overdoses, and 46% of more than 42,000 overdose deaths in 2016 involved fentanyl."
The National Forensic Laboratory Information System reported that drug seizures of fentanyl have increased by 7-fold from 2012 to 2014. Additionally, the DEA identified fentanyl as a threat to public health and safety in 2015, saying that "drug incidents and overdoses related to fentanyl are occurring at an alarming rate." The agency warned that fentanyl is lethal in low doses and can be absorbed through the skin or unintentionally inhaled.
Improving the detection of outbreaks using information from public health departments, coroner reports, and law enforcement remains central to our country's response to fentanyl. Expanding access to and the use of naloxone can also help to reverse overdoses. In April 2016, U.S. Surgeon General Jerome M. Adams urged the public to carry the life-saving medication naloxone, especially in those places with the highest incidences of opioid use.
Quest Diagnostics fine-tunes our laboratory processes to reflect current drug use trends. We now test for fentanyl using an immunoassay method and new reagent. This enhancement provides the ability to detect and report negative drug tests more quickly, and consequently, to offer faster results. Employers who want to maintain a safe, healthy workforce can add drug testing for opioids, such as fentanyl, as America continues to face a crisis where opioids are prevalent throughout our society.
For more information about drug testing, visit our website.
Photo courtesy of the Drug Enforcement Administration (DEA)