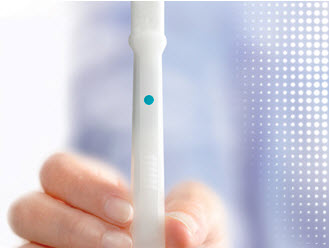 Test with confidence
Quest Diagnostics is pleased to announce our innovative oral fluid collection system that simplifies the collection of oral samples for routine drug testing. The Oral-Eze® Oral Fluid Collector provides all the advantages of previous collection systems, with the added benefit of our indicator window technology. The indicator window takes the guesswork out of collecting samples and turns blue when the sample quantity is sufficient for processing.
Advantages of Oral-Eze®
Indicator window assures sample adequacy. The collection device with built-in indicator window turns blue when 1 mL of oral fluid has been collected, reducing the likelihood of the sample being rejected as "quantity not sufficient" and thereby reducing the time and expense associated with a second collection.
No unpleasant taste. The Oral-Eze® Oral Fluid Collector has no salty or citric taste.
Easy collection and fast turnaround. Sample collection with the Oral-Eze® collector typically takes about three to five minutes. Testing is performed the day it arrives at our lab, with negative screening results reported the same day. Positive results are confirmed, reviewed, and typically reported within 72 hours of receipt.
Test a wide range of drugs
Amphetamines
Methamphetamines (including MDMA and its metabolite)
Opiates (Codeine, Morphine, Hydrocodone, Hydromorphone, 6-monoacetylmorphine)
Cocaine (metabolite)
Marijuana (THC)
Phencyclidine (PCP)
Additional resources
As part of our Oral-Eze® rollout, we have produced a number of educational resources designed to inform our clients and collectors about this exciting new product.
To learn how drug testing using Oral-Eze can benefit your organization, visit our website or contact us online.