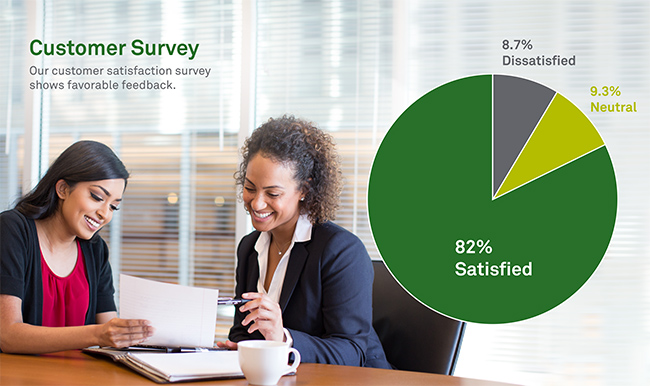 At Quest Diagnostics, we're working hard to do things differently – and better. I'm excited to be one of the beneficiaries of this new approach. After a year working on the front lines with our clients, I recently joined our newly created Data and Analytics Team. One of my first projects was another new idea – directly following up with dissatisfied respondents to our recent customer satisfaction survey. This one-on-one, personal approach provided the perfect opportunity to listen, to better understand customer challenges, to quickly resolve nagging issues, and perhaps most importantly, to clearly demonstrate we're there when you need us.
During conversations with more than 30 customers over the past few weeks, I was both surprised and pleased that the majority of our dissatisfied clients also had a piece of pleasant feedback to give, along with their constructive criticism about how we can improve our service. Through both the survey and follow-up conversations, customers reinforced that we meet or exceed their expectations in areas, including specimen turnaround time, our suite of products, and customer service. While knowing what's working well is important, I was most interested in learning more about where we need to improve.
"I lose so much time fighting with your website that it decreases my productivity." This candid comment, along with several others, allowed me to pinpoint exactly where we're dropping the ball. I grouped the feedback into three key areas that need attention: technology, collection services, and resources/information.
With areas of opportunity clearly identified, we organized action plans, gained leadership buy-in, and have started to implement tangible changes to address common problems. Here's a quick rundown of what we're working to improve.
Technology – We're tweaking our portals and making common features, such as "password reset" and "online ordering," easier to use. We're also redesigning the ESP homepage and highlighting our Quick Start Guide to ensure a seamless experience for new users
Collection services – Later this summer, we'll introduce a new and improved online collection site locator that will make it simpler to locate drug testing sites, make appointments, confirm hours of operation, find parking, and see wait times.
Resources and information – In our opinion, we run the industry's finest customer support center staffed with experienced professionals who are here to help. I also think this resource is one of our best kept secrets. If you need help, have a problem, or are frustrated with something we did – give us a call at 1.800.877.7484 and let us know.
Asking for feedback is good; yet listening and taking action is what separates good from great. We're committed to continuous improvement and there's no better source of guidance, inspiration, and motivation than our clients. We're gearing up for our fall customer satisfaction survey, and I'm already looking forward to hearing from dozens of our most dissatisfied, passionate, and opinionated clients. And while that may sound a little strange, like I said, we're doing things a little differently – and better.
For more information about drug testing, visit our website.