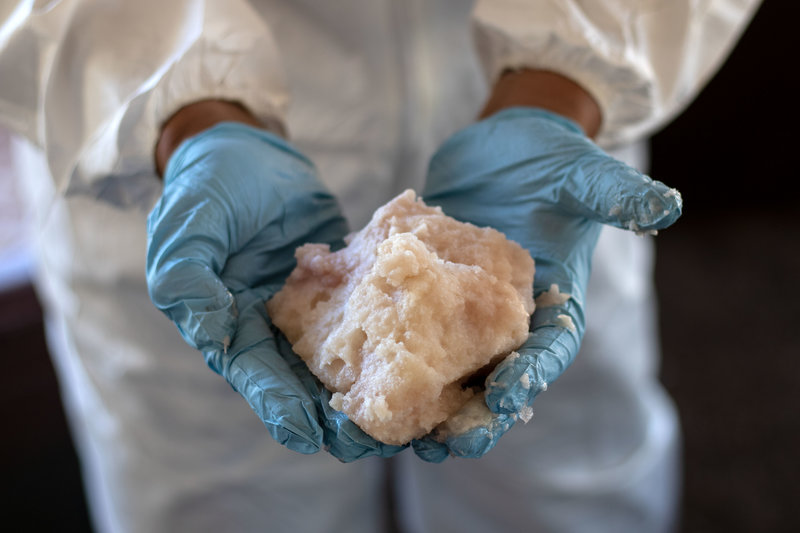 Methamphetamine, sometimes called meth, crystal, or crank, is an extremely addictive stimulant drug. It can be taken orally, smoked, snorted, or injected. Even small amounts of the drug can cause increased physical activity, decreased appetite, increased respiration, rapid heart rate, irregular heartbeat, and increased blood pressure. Repeated use may lead to anxiety, insomnia, weight loss, skin sores, severe dental problems, and addiction.
Recent reports suggest that the opioid crisis is overshadowing rising meth use in the United States. "It (methamphetamine) is back with a vengeance. The drug's now stronger, and cheaper, than it used to be," said Erik Smith, assistant special agent in charge of the Drug Enforcement Administration's Kansas City office.
In 2005, the Combat Methamphetamine Epidemic Act was passed to regulate over-the-counter drug sales of ephedrine, pseudoephedrine, and phenylpropanolamine because these chemicals can be used to manufacture illegal drugs. This law dissuaded domestic manufacturing; but Mexican drug cartels now mass-produce methamphetamine and distribute the drug using the networks they established for heroin and cocaine. The latest data from the National Survey on Drug Use and Health estimated that approximately 667,000 people aged 12 or older were current users of methamphetamine in 2016, which is roughly 0.2% of the total population.
The Midwestern and Southern states of rural America are being overwhelmed by the resurgence of meth. An analysis of trends in the general U.S. workforce based on the four U.S. Census regions identified large increases in methamphetamine positivity rates. According to the Quest Diagnostics Drug Testing Index™, methamphetamine positivity increased in certain areas of our country between 2013 and 2017.
167% in the East North Central division of the Midwest (Illinois, Indiana, Michigan, Ohio, Wisconsin)
160%in the East South Central division of the South (Alabama, Kentucky, Mississippi, Tennessee)
150% in the Middle Atlantic division of the Northeast (New Jersey, New York, Pennsylvania)
140% in the South Atlantic division of the South (Delaware, District of Columbia, Florida, Georgia, Maryland, North Carolina, South Carolina, Virginia, West Virginia)
Fatal overdoses involving psychostimulants, which include drugs such as methamphetamine, increased from 5% in 2010 to 11% in 2015, according to the National Center for Health Statistics. In these communities, treatment for opioid addiction is prioritized over treating meth addiction which lacks government-approved medications. Nonetheless, the National Institute of Drug Abuse (NIDA) recognizes the dangers of meth and continues to research effective treatments for people who abuse the drug.
Download our infographic detailing methamphetamine positivity rates by state.
For more information about drug testing, visit our website or contact us online.