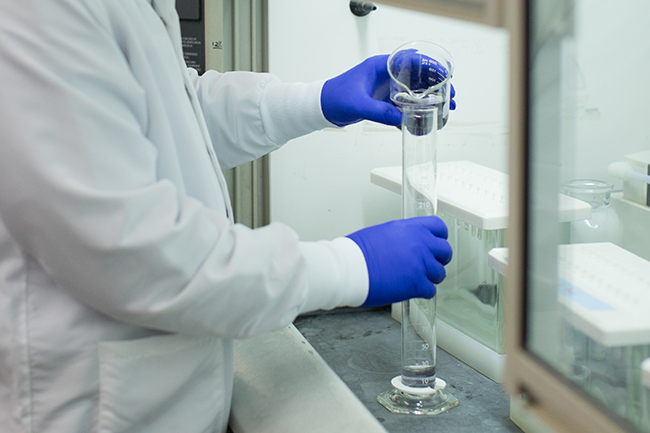 Every year, Quest Diagnostics® tests millions of workforce drug test specimens from around the country. With this volume of specimens, it is imperative that our laboratory professionals maintain numerous checks and balances throughout the process.
Two-step testing process
The testing process begins with our state-of-the-art instruments optimized for performance. Our SAMHSA-certified laboratories follow a two-tiered testing process, in which should a portion of a specimen screen presumptively positive, a second portion of the specimen undergoes confirmation testing. Both a forensic scientist and a certifying scientist review the data for each step of this process.
Take a look at our Lenexa, KS laboratory, one of the largest single-site laboratories in the world, in our Quest Diagnostics Laboratory Tour video.
Quality assurance
Our Quality team works across all of our drug testing laboratories, with professionals in every location, to watch for any potential issues and identify ways to improve the overall quality of our processes. Continuous improvement is part of our framework and our experts examine quality through internal audits, proficiency testing review, and training programs, with a focus on preventive action.
Learn more about how we provide quality for our customers, from collection to results.
Laboratory inspections
In addition to internal checks and balances and data audits, we adhere to the standards of regulatory agencies who help to ensure the integrity of our laboratory testing. Our laboratories have routine inspections from entities such as the National Laboratory Certification Program (NLCP) and the College of American Pathologists (CAP). Our team maintains current licenses and accreditations as required by certain states and federally regulated drug testing.
Summary
Our accountability, meticulous attention to detail, and rigorous oversight of our lab operations are examples of how we help to ensure our clients receive accurate, reliable, workforce drug testing to make important business and hiring decisions. A laboratory operated on values of accuracy, safety, and continuous improvement is ideal for employers working to maintain a drug-free work environment.
Download our Guide to Establishing a Workplace Drug Testing Program.
For more information, visit our website or contact us online.