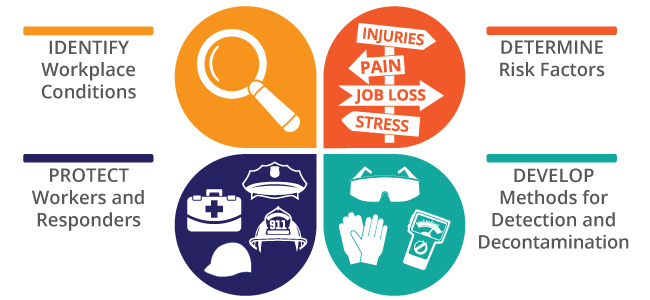 The opioid epidemic that claimed 42,000 lives in 2016 will not likely stop at the front doors of the companies in our country. Banks, grocery stores, construction sites, retailers, factories, and thousands of other industries can suffer the devastating effects of substance abuse. Between 2013 and 2016, overdose deaths at work from non-medical use of drugs or alcohol increased by 38% annually according to the Bureau of Labor Statistics. Additionally, an employee suffering from a substance use disorder misses an average of 14.8 days each year – four more days than most employees.
The National Institute for Occupational Safety and Health (NIOSH) and the Centers for Disease Control and Prevention (CDC) have responded strategically to this public health emergency and created toolkits and guides to help both employers and employees face this crisis in their communities. As the opioid epidemic continue to dominate headlines, there is a real need to go beyond education and build action plans to address and potentially eradicate the crisis from the workplace. NIOSH examined opioid use, which includes prescription opioids, heroin, and fentanyl, and created a four-part framework of recommendations that examine the lifecycle of misuse and identify potential precursors. The quadrants focus on the following areas:
Identify workplace conditions to educate employers and physicians about how medically-prescribed opioids can transition into a disorder.
Determine risk factors, such as injuries, pain, job loss, and stress that can lead to opioid abuse.
Protect people from opioid exposure in the field working in law enforcement, healthcare, and emergency services.
Develop methods for detection and decontamination to safeguard workers with these jobs.
Both agencies continue to research and collect data to better understand the risk factors and consequences of opioid misuse in an effort to protect the safety and well-being of workers. Employers should stay informed to protect employees and consider actions, such as evaluating fitness-for-duty guidelines by role, refining return-to-work policies, better defining impairment, and adding opioids to their workplace drug testing programs.
Regardless of the drug, research shows that drug testing filters out drug users and deters drug use at work. A drug-free work environment can help to reduce on-the-job accidents, decrease absenteeism, reduce employee turnover, and improve productivity.
Get started using our step-by-step Drug Testing Guide.
Download opioid epidemic resources from NIOSH.
To learn more about drug testing, visit our website.
Graphic courtesy of National Institute for Occupational Safety and Health Office of the Director