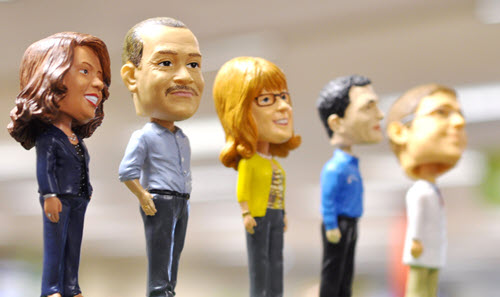 Believe it or not, this Saturday marks the second annual National Bobblehead Day. These disproportionate figurines have been sought-after collector items dating back to the mid-18th century, known then as Nodding-head figures. However, they were not mass-produced until the 1950s during the golden era of baseball. In the 1960s, the Beatles helped propel bobbleheads into the mainstream with the emergence of their – now highly coveted – set of bobbles themed after some of their biggest hits. Since then, they have become a quirky recognition that tells a story about how much someone means to us as a public figure, athlete, world leader, or in our case, a treasured colleague.
In 2011, we started our own yearly bobblehead tradition to celebrate an outstanding team member. Our muse is someone who is a productive and positive influence within our organization and whose impact is instrumental to our success. In our attempt to create a fitting way to acknowledge and celebrate their larger than life contributions – we "bobble" them.
Aside from being molded from great people, our bobbleheads were born from a need to have a physical representation of what we stand for as a business. They embody our we're there when you need us™ mantra and personify the commitment of our laboratories and operations. This campaign has morphed into a reflection of who we have always been: industry experts, service providers, and drug-free workplace advocates. With that in mind, enter our bobbleheads, a celebration of the professionals who continuously help us live up to our we're there mantra.
To learn more about how we're there when you need us, visit our website. or contact us online.