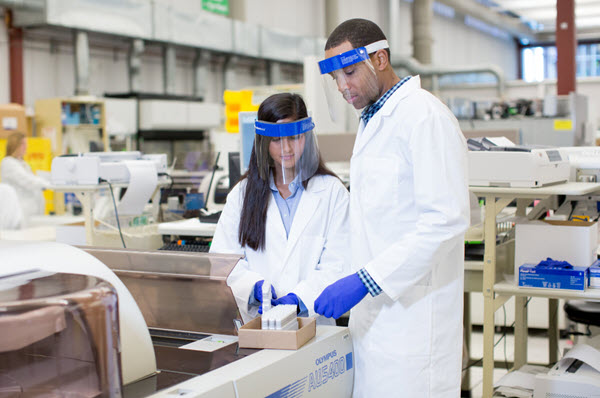 Workplace drug testing programs aim to prevent the hiring of applicants who use drugs while deterring drug use among current employees.
This year, US Department of Transportation (DOT) agencies like the Federal Motor Carrier Safety Administration (FMCSA) increased their random rates for testing. Under federal regulations, FMCSA must increase the minimum annual random testing percentage rate when the data received under the reporting requirements for any calendar year indicate that the reported positive rate is equal to or greater than 1.0%.  Many employers follow the lead of the DOT and mirror their programs after the federal drug and alcohol testing guidelines.
Random positivity rates
Drug use hit a 16-year high in the American workforce, according to the latest analysis in the Quest Diagnostics Drug Testing Index™ (DTI) and marijuana continues to top the list of illicit drugs detected. More specifically, in the general U.S. workforce, random urine drug test positivity rates are higher (5.6%) than the rates for pre-employment (4.9%).
With rising drug use, it may be more important than ever for employers to diversify their drug-free workplace programs, combining pre-employment testing with a random drug testing program.
What are the benefits of random drug testing?
Random or "spot" drug testing serves as a deterrent to drug use because testing is unannounced and has no advance warning. Using a random, computer-generated selection process, an employer selects one or more individuals from all the employees included in the organization's workplace drug testing program. Random drug testing is effective at deterring drug use in the workforce because employees do not know when they may be tested. Other benefits can include:
Reducing absenteeism and downtime
Improving attendance and employee productivity
Helping to reduce healthcare costs
Preventing the need for substance abuse recovery programs
Providing a safer workplace with reduced accidents
Design a random drug testing program
Setting up a random drug testing program is not as simple as drawing names from a hat. The key to running an effective random testing program lies in the selection methodology and determining a random testing rate. Random drug testing selections are based on the size of the employee pool, program time period, and frequency rate. Companies are advised to adopt reliable, repeatable processes to ensure accuracy and fairness for their program's selection process.
When administered properly, the operative word 'random' will hold true and individuals in the program will not know when a drug test will occur. This reduces risk for employers because bias is removed, and any employee can be selected for a random drug screen at any time. This element of chance acts as a strong deterrent to drug use.
How Quest can help
In order to simplify what can sometimes be a complex undertaking, we have developed a variety of random drug testing program management options. Each tier features a unique level of service to run both regulated and non-regulated random programs. Our tools are designed to maximize your program's effectiveness while minimizing your administrative efforts.
To estimate your return on investment from a random drug testing program, use our Drug Testing Savings Calculator.
For more information about drug testing, visit our website or contact us online.
Updated January 12, 2021