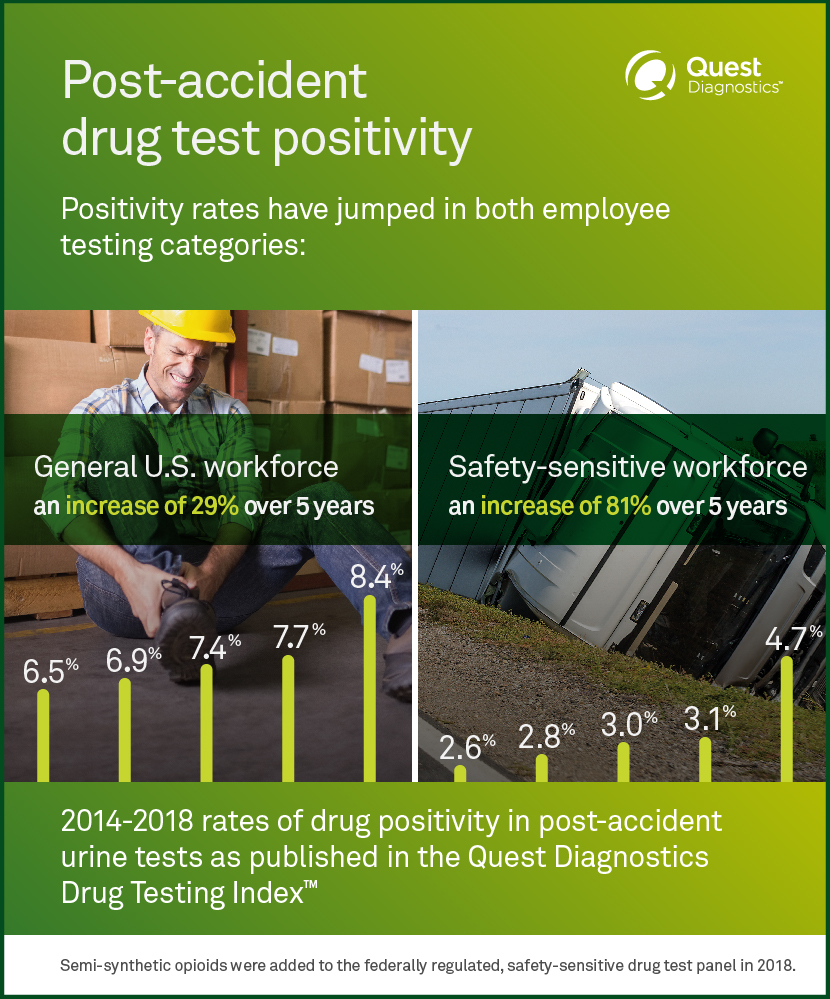 On January 4, 1987, in Chase, Maryland, a locomotive engineer and his brakeman were smoking a marijuana cigarette while on duty operating a trio of Conrail locomotives. They failed to react to stop signals and collided with an Amtrak train carrying more than 600 passengers. In total, 16 people died and 164 were injured. Some of the injured were trapped in the wreckage for more than 10 hours before they were finally freed. Although the two Conrail crew members initially denied smoking marijuana, their drug test results were positive. This tragic incident led to the formation of stricter drug testing laws for federally mandated, safety-sensitive workers, which evolved into workplace drug testing as we know it today.
Following a workplace accident, an employer may be required or may choose to drug test individuals involved in the accident to determine if drugs played a role. Post-accident drug testing is the third most common reason for drug testing, behind pre-employment and random testing. New findings from the Quest Diagnostics® Drug Testing Index™ show the following important facts about post-accident urine drug testing.
Post-accident drug positivity for urine testing has been increasing annually since 2011 across the combined US workforce
For the general US workforce tested, post-accident positivity in 2018 was 8.4%, up 9% from 2017
1 in 12 general US workforce employees tested was positive for drugs following an accident
For the federally mandated, safety-sensitive workforce tested, post-accident positivity in 2018 was 4.7%, up 51% from 2017
In the safety-sensitive workforce, the 2018 addition of four semi-synthetic opiates to the standard drug panel contributed to the significant increase in positive drug tests. According to the Centers for Disease Control and Prevention, opioid prescribing rates in 2017 were still very high in certain areas across the country. Having a valid prescription does not mean a medication is risk-free or is being properly used. Furthermore, opioids are often obtained illegally without a prescription. Opioids are highly addictive and medication interactions are often unknown and unmonitored. Rising post-accident positivity rates across the combined American workforce subject to testing indicate an opportunity for employers to strengthen their drug testing policies.
Accidents in the safety-sensitive workplace may seem more dangerous and significant; however, accidents within the general US workforce are also harmful and costly. Analysis of post-accident urine drug test specimens show that marijuana positivity rates in the general US workforce have been increasing each year since 2009. In 2018, marijuana was more than twice as likely to be detected by a post-accident drug test than in 2009. Marijuana can impair body movement, cause difficulty with thinking, and may even cause hallucinations and delusions when taken in high doses. All of these impacts can pose a risk and lower a user's productivity regardless of the workplace setting.
According to the National Safety Council, 4.6 million workplace injuries happen annually in the United States. The cost for each medically consulted injury in 2017 was $39,000; the cost for each fatality was estimated at $1.15 million. In 2017, 104 million production days were lost because of work-related injuries. Workplace accidents are expensive and dangerous, but in many cases, they are also preventable. Having a robust drug testing program in place can help prevent drug-related accidents in the workplace. Programs that include pre-employment and random testing policies work to deter drug use among employee populations. With testing programs in place, employers can expect to have fewer employees using drugs, and ultimately fewer workplace accidents.
Several years following the Conrail-Amtrak disaster, the Conrail engineer was released from prison, and stated during a newspaper interview that the collision would never have happened if not for his marijuana use. Clearly, drug testing can and does play a role in helping to prevent drug-related workplace incidents.
See positivity data for post-accident drug testing.
For more information about drug testing, visit our website.
Sources:
Centers for Disease Control and Prevention, National Center for Injury Prevention and Control, Division of Unintentional Injury Prevention, July 31, 2017. https://www.cdc.gov/drugoverdose/maps/rxstate2017.html
National Safety Council (NSC) Work Injury Costs 2017. https://injuryfacts.nsc.org/work/costs/work-injury-costs/
National Safety Council (NSC) Work Safety Introduction 2017. https://injuryfacts.nsc.org/work/work-overview/work-safety-introduction/