Two and a half years ago I watched this video for the first time and it profoundly changed the way that I think about our drug testing business. If you have the time, you owe it to yourself to take the next 18 minutes to watch the presentation. It could be the most significant thing you do today.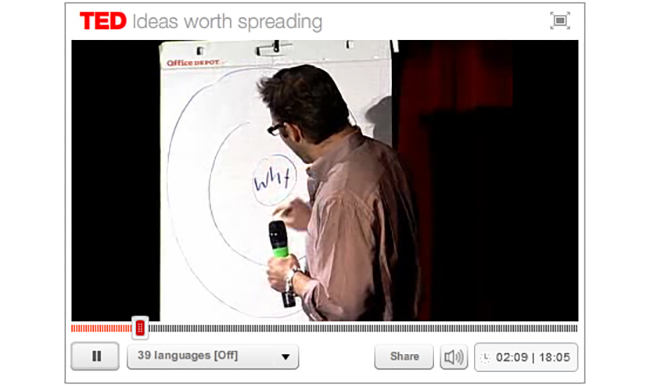 As a product manager, marketer and brand-builder, I spend the majority of my time thinking about the products I promote, how they work, how to make them better and how to sell more of them. And I used to stop there. But as we evangelized Start With Why throughout our business, the conversation and the focus started to shift away from the whats and the hows and instead we engaged in a process to uncover the why of Quest Diagnostics Employer Solutions.
A year and a half ago, eight of us locked ourselves inside of our boardroom for six hours. We started our day by watching the video and we spent the remainder of our time filling up flip charts as we explored our perceptions of the business, our client's perceptions of us, our aspirations for what we wanted our business to become, and our whats, our hows and our whys.
The whats and hows came easily – they always do. And we thought our whys were coming easily, too – Why are we in the drug testing business? We believe that drug testing creates safer workplaces, safer highways, safer airplanes, safer power plants. We believe that the fast, accurate, dependable results of our drug tests enable our clients to make better, more informed hiring decisions. We believe that a positive drug test can open the door for a healthcare provider, an athlete or an individual with an addiction problem to seek help and to take steps to get healthy. We believe that the information we provide through the Drug Testing Index, through our educational emails and through our webinars enable our clients and the rest of the industry to continually enhance their programs, processes and understanding. However, the more we thought about it, the more it became apparent that what we thought were our whys were actually the whats of drug testing itself.
So we dug deeper into our culture, asking ourselves why we're different from our competitors, why we get excited about our products and clients, and why we get out of bed in the morning. And a common theme that is the true core of our business started to expose itself. Words like service, commitment, passion and customer satisfaction began to fill up the empty corners of the flip charts. It was then that we realized that our why had nothing to do with drug testing and everything to do with the standard of excellence to which our employees hold themselves accountable as they interact with our customers. The why of our business that makes us a leader in the industry, that drives our excellent customer satisfaction scores and that holds us accountable to push ourselves to the next level is our commitment that we're there when you need us.
This month we're celebrating the one year anniversary of the introduction of our We're There When You Need Us campaign. Over the last twelve months we've traveled across the country talking with our employees and collecting their video-taped stories describing how they've been there for our clients. We have also shared the We're There When You Need Us message and commitment with our clients, a number of which nodded their heads in agreement, indicating that we had articulated the hard to describe quality that sets us apart from our what and how competitors.
As we continue to evangelize our message in 2013, you may see a promotion or a video that catches your attention, you may interact with one of our employees and witness them bringing our We're There When You Need Us culture to life, or you may not experience anything different at all. After all, We're There When You Need Us is and has always been at our core. So it's entirely possible that it may not feel any different, because, as our campaign video puts it, We're There When You Need Us and we've been there all along.
For more information about drug testing, visit our website.