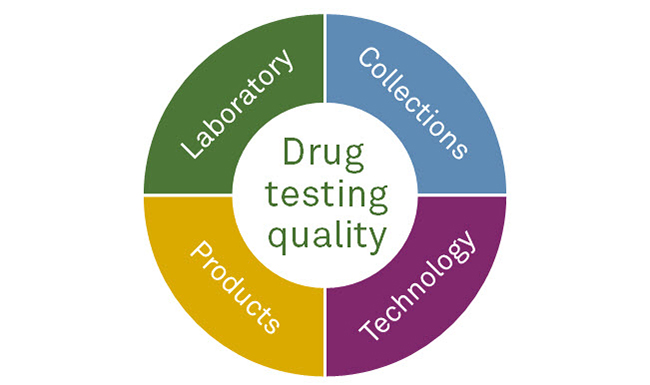 As a leading drug testing laboratory, we want employers to feel confident about their drug test results because these results often directly impact workplace safety, productivity, and an individual's livelihood.  Therefore, we are dedicated to achieving an exceptional level of quality throughout the entire drug testing process from specimen collection to the final drug test result. Our focus falls into several key areas:
We measure precision in screening and confirmation testing, turnaround times, and problem resolution to ensure every result that our laboratories report is accurate and timely. Furthermore, our four drug testing laboratories are Substance Abuse and Mental Health Services Administration (SAMHSA) certified to perform regulated drug testing as well as College of American Pathologists (CAP) forensic drug testing (FDT) accredited.
We continually monitor and audit our nationwide network of more than 8,000 collection sites. Our collector training schedule exceeds the requirements established by the U.S. Department of Transportation (DOT) because we want to ensure every one of our professional collectors are knowledgeable, skilled, and up-to-date.
We track the logistics and speed of our company-employed couriers, commercial delivery services, and private and commercial flights that transport drug testing specimens from the collection site to the laboratory for testing because turnaround times are always a priority.
We examine workplace drug testing trends and publish our analysis in the Quest Diagnostics Drug Testing Index™. This empowers our scientific experts to prioritize innovation and develop drug tests that keep pace with the most commonly-abused substances.
Our IT team continually monitors system performance, results delivery, security, and code integrity in the technology solutions we use to simplify the drug testing process
At Quest Diagnostics, we work to achieve near perfect standards of quality. For example, our negative turnaround time (from lab log-in to result release) for a urine drug test is consistently faster than the industry standard and our fatal flaw rate for collections quality regularly approaches zero.
We understand that quality matters to our clients and that it is a key factor that sets us apart from other providers. Our We're there when you need us™ philosophy weaves quality into everything we do. We pledge to help keep workplaces drug-free by offering high quality, reliable drug testing solutions.
For more information about drug testing, visit our website.