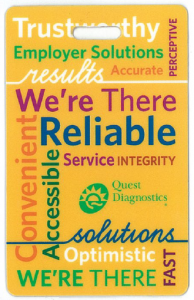 When we launched our We're There When You Need Us campaign in early 2012, we gave each of our employees a small, green plastic card that they could wear on their ID badge.
The message on the card expresses a few of the ways that we're there for our clients. It reads – We pride ourselves on being there through thick and thin. At every turn we're there ensuring that your program runs smoothly. We're there with convenient services and an extensive network to save you time and money. We're there when you need answers or advice. We're there when you make a desperate phone call at the end of a hectic day. Simply put, we're there when you need us. It's not just part of our job; it's how we're wired. We have an innate desire to please. Our success is tied to your success.
Over the course of the last few months I've read that message to myself dozens of times. The more that I read it, the more I believe it. And the more that I believe it, the more I embody it. I know that it's changed the way that I think, act and make decisions.
Midway through the year we began passing out upgraded gold colored versions of the same plastic cards. Employees who share their story or who demonstrate an exceptional example of showing that they're there when needed, earn one of these special golden badges and the title of We're There Champion. Something as small as a plastic card has significantly changed the way we embody our values and celebrate our accomplishments.
Come to think of it, it's pretty amazing what a significant impact seemingly small things can have. To me, this is what We're There When You Need Us  is all about. It's as small as being there to ensure that programs are running smoothly. It's convenient services and an extensive network. It's a person on the phone when you need answers or advice.
It's the small things that can make a big difference in the success of your business.
And I've got a golden card that proves it.
Bob McCormick is the Vice President of Employer Solutions. View full profile.
For more information about drug testing, visit our website.