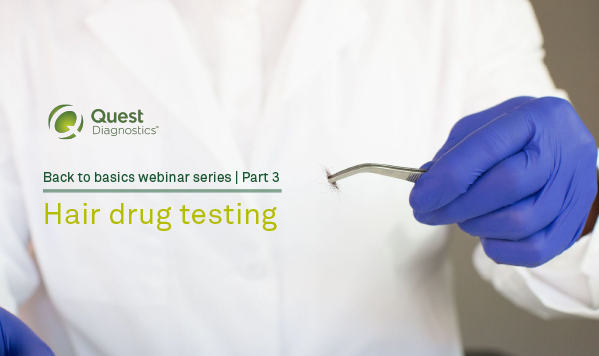 Drug testing can be complicated and requires learning the fundamentals to execute a successful, drug-free workplace program. Whether you are new to drug testing or a seasoned veteran, it is important to understand the benefits of different specimen types.
In the third and final installment of our webinar series, Back to basics, hair drug testing takes center stage. Hair testing is versatile, not easily tampered, and provides the longest detection window of any drug test specimen type we offer. We will comb through the science and provide insights on how drugs are detected in hair, why it is a reliable testing method to detect repetitive drug use, and how the collection process is unlike any other specimen type.
Join Jarod Rowland, forensic toxicology laboratory supervisor and David Bustos, collection services manager at Quest Diagnostics, as they untangle common misconceptions regarding this drug test type and help to provide an overview on how hair drug testing may benefit your drug-free workplace program.
Other topics for this webinar will include:
Hair testing science
Collection process
Laboratory procedures
Common myths
Insights from the Quest Diagnostics Drug Testing Index™
Drug abuse in the workplace puts companies at a risk for greater absenteeism and turnover, on-the-job accidents, and lower employee productivity. Hair drug testing, like all drug testing methodologies, helps to mitigate these risks by screening drug-using job applicants and deterring drug use among current employees.
Register today to view this on-demand presentation.
For more information about hair drug testing, visit our website.