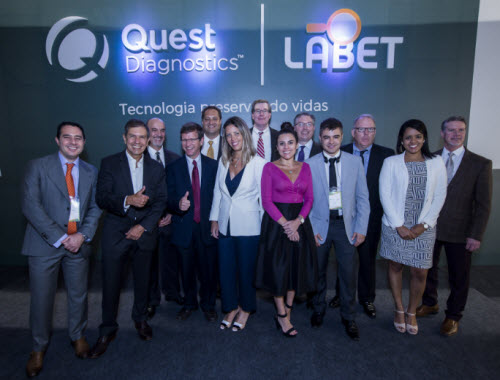 The largest and most modern Latin American toxicology laboratory was recently opened by Quest Diagnostics and our joint venture partner LABET in Santana de Parnaíba, São Paulo, Brazil. In attendance at the grand opening were numerous business leaders, government officials, and members of the media.
The new laboratory and the events surrounding its opening, reinforce the importance of a 2016 Brazilian law that mandates hair analysis drug testing for all professional truck, bus, and large passenger van drivers renewing or obtaining licenses (Categories: C, D, E). Hair testing detects long-term patterns of repetitive drug use.
"Brazil is changing dramatically and in many ways for the better, and technology is one facet of this positive transformation. We are living in a time where a change of habits and culture is essential," said Marcio Liberbaum, President of the Council of LABET. "With legislation in place that mandates tests such as these, we are saving lives."
"To do what needs to be done, we teamed up with the best," added Marcio, referring to the credentials and reputation of Quest.
Quest has been operating for 25 years in the diagnostics sector in Brazil, working alongside hospitals such as Albert Einstein in São Paulo. The partnership with LABET for toxicology testing was natural and timely, explained John Haydon, Vice President of Global Markets at Quest. "At Quest, we say that a one-plus-one partnership should give three, not two. That's exactly what is happening between Quest and LABET."
Bob McCormick, Vice President of Employer Solutions for Quest and President of the board of directors at the new Quest/LABET laboratory, said, "We have a long history of testing in the United States, as we started testing professional drivers more than 20 years ago. Today virtually every employer in the industry demands it, resulting in a reduction of traffic fatalities."
With the recent inauguration of the laboratory, and expected accreditation in coming months, comes the ability to test hair specimens in the new facility. Today, specimens collected in Brazil are being sent to our Quest drug testing laboratory in the United States for analysis. "In the near future, everything can be done in Brazil," explained Barry Sample, Ph.D., Senior Director of Science and Technology at Quest. "We will use the same technology used in the United States, and look forward to leveraging the new, state-of-the-art equipment here at our disposal in Brazil."
Download our case study about Brazil hair testing.
To learn more about drug testing, visit our website.