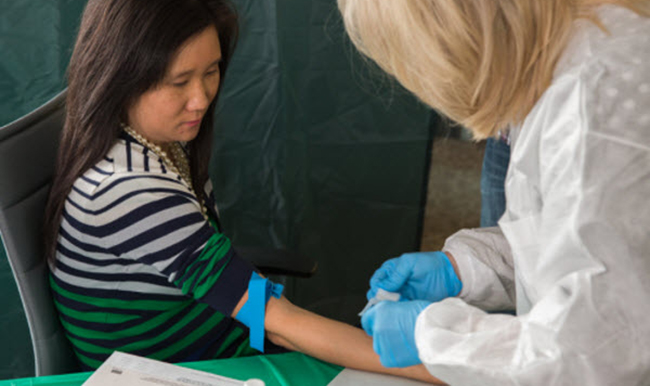 While conducting your day-to-day interactions with Employer Solutions, you may have heard about other areas of Quest. Today we'd like to highlight another group that provides valuable services to employers, Quest Diagnostics Health & Wellness.
The Health & Wellness division of Quest is the nation's leading provider of biometric wellness screenings, flu shots, and related preventive services for employers. Each year, more than 3.5 million American adults undergo wellness screenings, and over 500,000 flu shots are administered during these screenings. With unrivaled access and flexible collection methods, including access to 2,200 Patient Service Centers nationwide, Quest Diagnostics Health & Wellness helps reduce barriers to participation and enhance employee-sponsored, wellness screening program flexibility in order to lead employees to the right care at the right time.
By offering compelling screening insights in easy-to-understand personalized reporting, Quest Diagnostics Health & Wellness helps employees and their partners identify and understand disease risks. Within that reporting, individualized health-improvement solutions are also recommended, enabling participants to make healthier choices ­– choices that result in reduced healthcare costs and lives saved. In fact, wellness screening participants have an average 2-year healthcare-related savings of $884 per person¹.
Population health insights, garnered from screening data, also provide a foundation for employers to help guide planning and decisions about benefit design and wellness initiatives. That's why Quest Diagnostics Health & Wellness offers population-level reporting with data-driven insights to every client at the end of each biometric screening program. This aggregate data provides rich insights about an organization's health status, while maintaining the confidentiality of personal employee information.
It is essential that employees understand their health risks and how to maintain or improve their health, especially during open enrollment season. Giving employees and their spouses/domestic partners the chance to know their numbers gives them the opportunity to take charge of their health, and promotes a culture of well-being in the workplace.
To learn more about the value of biometric screenings, along with engagement and health improvement solutions from Quest Diagnostics Health & Wellness, visit QuestForHealth.com.
¹Diagnostics Blueprint for Wellness – Domino's Case Study, 2012.
Special thanks to guest contributor Katie Birkenfeld, Marketing Specialist, Quest Diagnostics Health & Wellness