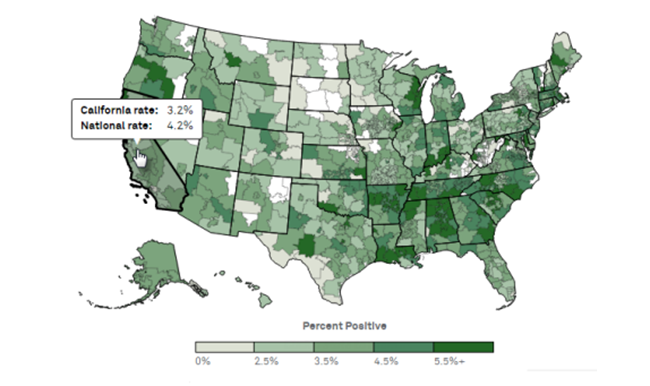 Which drugs are popular in my county? How does workplace drug use in my state compare to the rest of the country? Has drug use in the American workforce changed significantly during the past decade? Employers, media, government, and policymakers frequently look to Quest Diagnostics for insights about their specific geographies. These inquiries are especially prevalent this year with workplace drug use at a 12-year high.
Powered by data from the Quest Diagnostics Drug Testing Index™ (DTI), our new interactive map illustrates workplace urine drug test positivity by drug type for the past 10 years. You can search all 50 states for the six of the most common illicit substances: 6-AM (heroin metabolite), amphetamines, cocaine, marijuana, opiates, and phencyclidine (PCP.) This innovative tool drills down to positivity percentages by 3-digit zip code and helps to depict regional, drug, and time-based positivity rate changes.
Reporters covering latest DTI findings used the map to compare local drug use trends to the national average, which vary by state and by drug preference. For example:
To see how your hometown ranks, search by zip code at QuestDiagnostics.com/DrugMap.
For more information about drug testing, visit our website or contact us online.