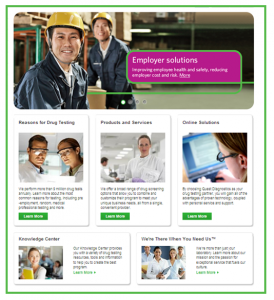 As the leader in workplace drug testing, we strive to give you helpful resources that answer your questions and share what works best. Therefore, we improved the organization of our website to make it easier to find what you need. We want to be there for you online to share our knowledge to keep you well-informed.
Check out some of the highlights and bookmark our new links:
Our new home page gives you a quick glance at our content. It showcases what's available and improves navigation. Check our EmployerSolutions.com.
Start with the drug testing options that help you combine and create a program that meets your requirements. Click here for Reasons for Drug Testing.
Explore Quest Diagnostics complete array of tests to create an effective drug screening program. Click here for Products and Services.
Learn more about our proven technology, coupled with personal service and support for your workplace drug screening program. Click here for Online Solutions.
Our Knowledge Centeris a hub of information which includes our blog, the Drug Testing Index™, webinars and brochure. Click here for our Knowledge Center.
 Choose the additional education you need using our options for drug testing training. Click here for our Online Training.
Learn more about how We're There When You Need Us with our special pages. Click here for our We're There When You Need Us.
For more information about drug testing, visit our website.