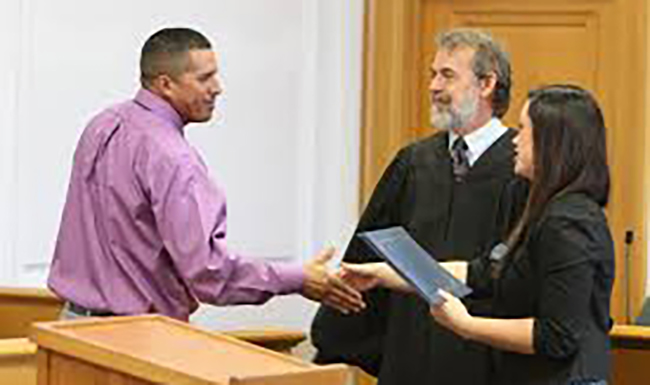 May is National Drug Court Month. It is a time to raise awareness of drug courts and celebrate a successful strategy for cutting crime and saving lives. It is estimated that each year, drug court programs help 150,000 participants restore their lives by providing an alternative to incarceration and a drug-dependent lifestyle.
The first drug court was established in Miami-Dade County, Florida in 1989. According to the National Association of Drug Court Professionals (NADCP), "tired of the same faces and the same cases repeatedly appearing before the court, a visionary group of justice professionals decided that the system as it existed was broken and there had to be a better way. They found a solution by combining drug treatment with the structure and authority of the judge. Working as a team, they were able to effect lasting change in the lifestyle and behavior of drug court participants."
Today there are more than 3,000 drug and problem-solving courts operating in every U.S. state and territory. These specialty courts have arisen to confront the emerging issues facing our country. For example, veteran's treatment court, the newest model, was created to meet, "the needs of our heroes from the armed services, who sometimes have difficulty adjusting to life at home or coping with combat-related stress, and may become involved in the justice system. Rather than ignore their plight, veteran's treatment courts provide the treatment and structure they need to resume productive lives." Other examples of problem-solving courts include: DWI courts, juvenile/family courts, reentry drug courts, and tribal healing courts.
Drug and problem-solving courts deliver substantial returns on the investment and important benefits to society:
DWI court participants are 19 times less likely to be rearrested
Treatment courts return $27 for every $1 invested
Treatment courts help reduce crime by as much as 45%
75% of treatment court graduates are not rearrested
For more information on drug testing, visit our website or contact us online.