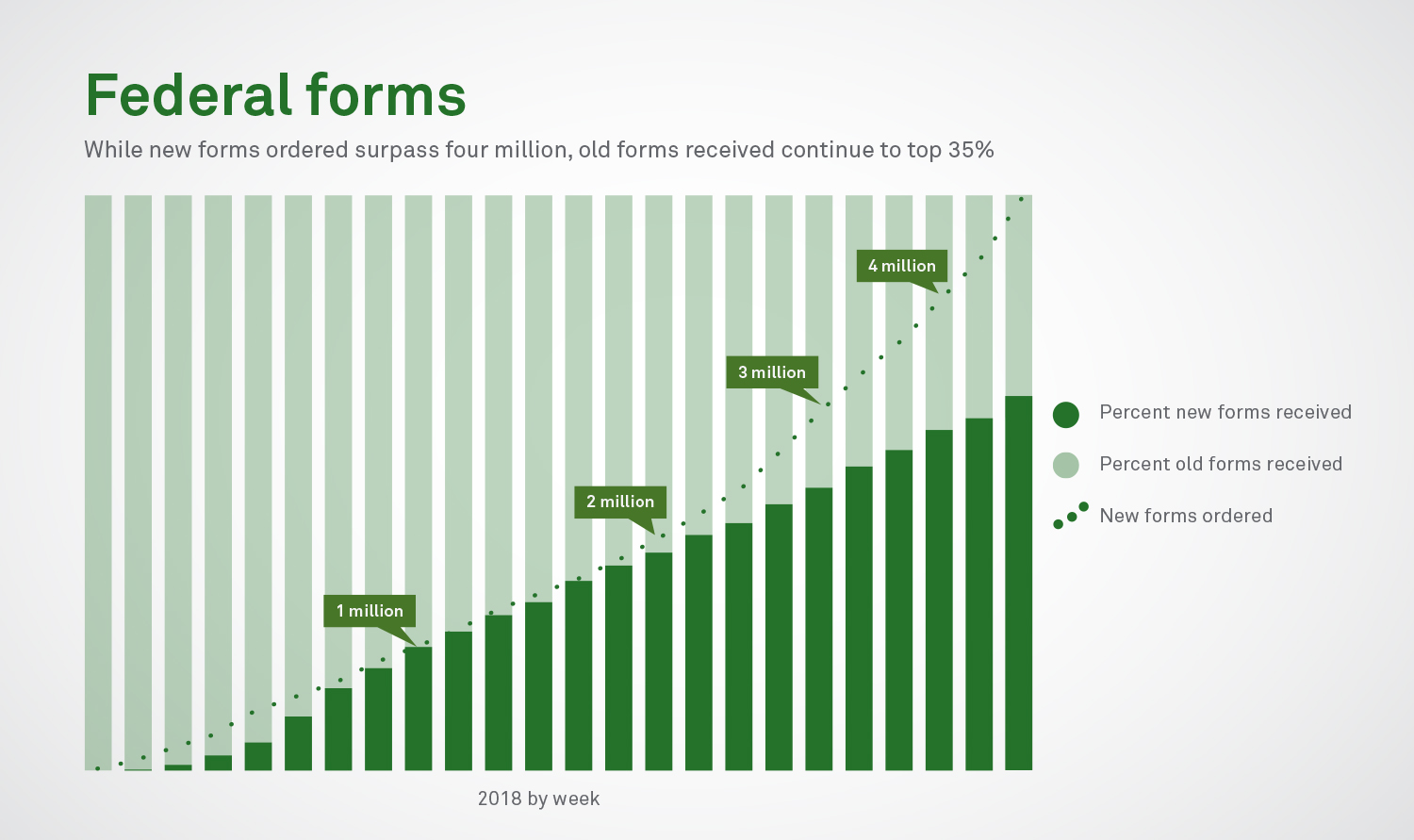 With the federal form change deadline of July 1 quickly approaching, we want to ensure that you know that using the "old" 2014 version of the paper Custody and Control Form (CCF) will result in significant turnaround time delays of drug test results.
What if I used an 'old' CCF?
DOT-regulated employers and their service agents (collectors, laboratories, Medical Review Officers) may not use the 2014 version of the CCF for U.S. Department of Transportation (DOT)-mandated drug test collections after June 30, 2018.
If, as a collector, laboratory, Medical Review Officer, employer, or other person implementing these drug testing regulations, you become aware of the use of a non-Federal form or an expired Federal form, you must provide a signed statement (i.e., a memorandum for the record or MFR). It must state that the incorrect form contains all the information needed for a valid DOT drug test, and that the incorrect form was used inadvertently or as the only means of conducting a test, in circumstances beyond your control. The MFR statement must also list the steps you have taken to prevent future use of non-Federal forms or expired Federal forms for DOT tests.
Stay compliant with new forms
While more than one-third of the regulated drug tests that our laboratories process are accompanied by an electronic CCF, the majority are still driven by paper-based documentation. We began fulfilling our client's paper form orders with newly updated Federal forms starting in January 2018, in an effort to minimize the negative impact to the greatest extent possible.
Since that date, we have shipped more than 4 million "new" paper forms to our regulated clients in preparation for this important transition. While we've seen the balance of old-to-new forms gradually shift throughout 2018, approximately 35% of the regulated drug tests that our labs received in the past week included CCFs that are set to expire, which will soon render the documentation non-compliant with the current regulations.
We encourage you to proactively prepare for this change and double-check your paper CCF inventory today. Additionally, we encourage you to consider switching to eCCF for both Federal and non-federal drug testing. As an eCCF-approved laboratory, Quest Diagnostics always uses the most current CCF.
Read our FAQs about regulated drug testing.
For more information about drug testing, visit our website.
Note: The federal CCF includes both DOT and HHS forms. If you use a CCF that is not DOT or HHS, your federal forms are not expiring and may not be eCCF-eligible.